New Baileys® Chocolate Cherry Irish Cream Liqueur Kicks Off Thanksgiving Eve in Miami With Stylish Shots on the Go Featuring Face. Brow & Beauty Bar's lipstick bar.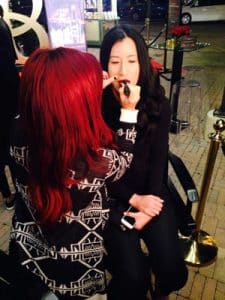 Bailey's took over Miami's Mary Brickell Village on November 26th with the popular Stylish Shots on the Go event to celebrate the launch of Baileys® Chocolate Cherry Irish Cream Liqueur, the newest addition to the Baileys Irish Cream collection. Baileys® invited face. brow & beauty bar to do the custom lipstick bar to create the perfect pout for all the ladies. They used Smashbox Cosmetics lipsticks and glosses- which they will be selling in store – to create a customized look for every woman. With a wide range of colors in the 'Cherry Bombshell' theme, from dark red to reddish-pink, ladies loved their new lip looks to compliment their outfits.
Baileys® and face. brow & beauty bar helped women get camera-ready for the famous Thanksgiving Eve bar scene so they would be ready for their selfies as well as running into old friends and family! "We loved being part of an event that gave women a boost of confidence for a night out! We really enjoyed working with Baileys® and Miami-based photographer and fashion blogger Annie Vazquez," said owner Fatima Lalani.
Annie Vazquez was on site giving tips on how to strike the perfect pose in front of the camera with their new look. Overall, the event was a great success!