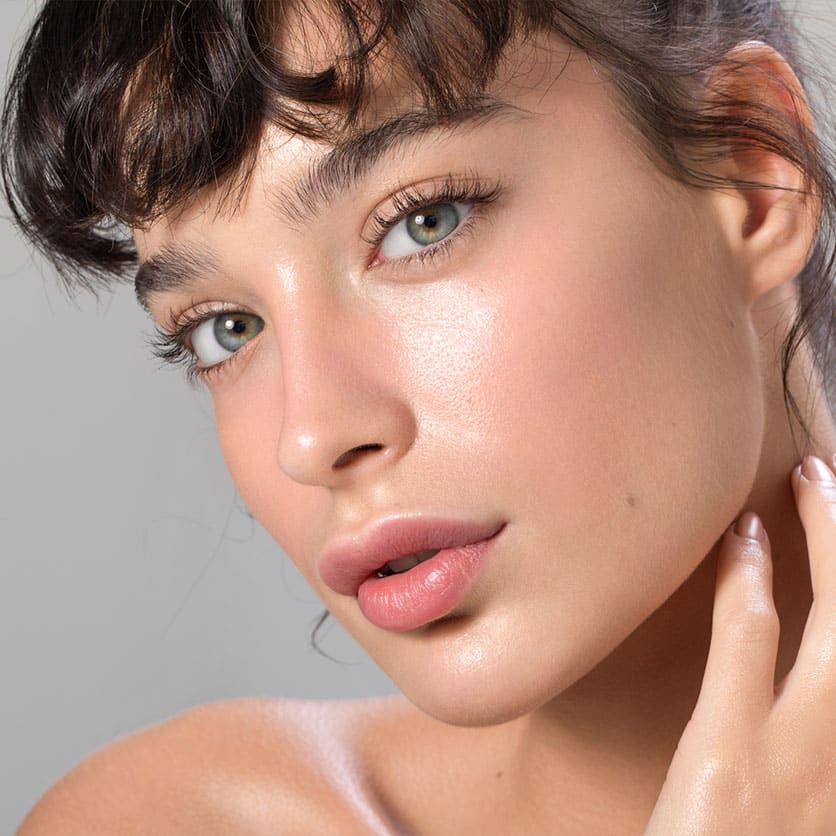 Flawless skin starts with a flawless skincare routine!
Relaxing & Hydrating Facials in Miami, FL
At Face. Brow & Beauty Bar, we're all about making your skin shine with that radiant, "woke up like this" vibe! Walk into our cozy haven in Miami, where our top-rated estheticians give you spa sessions that are like pure magic. Every facial is a special custom creation, designed just for your unique skin type. Your skin's going to feel pampered and radiant!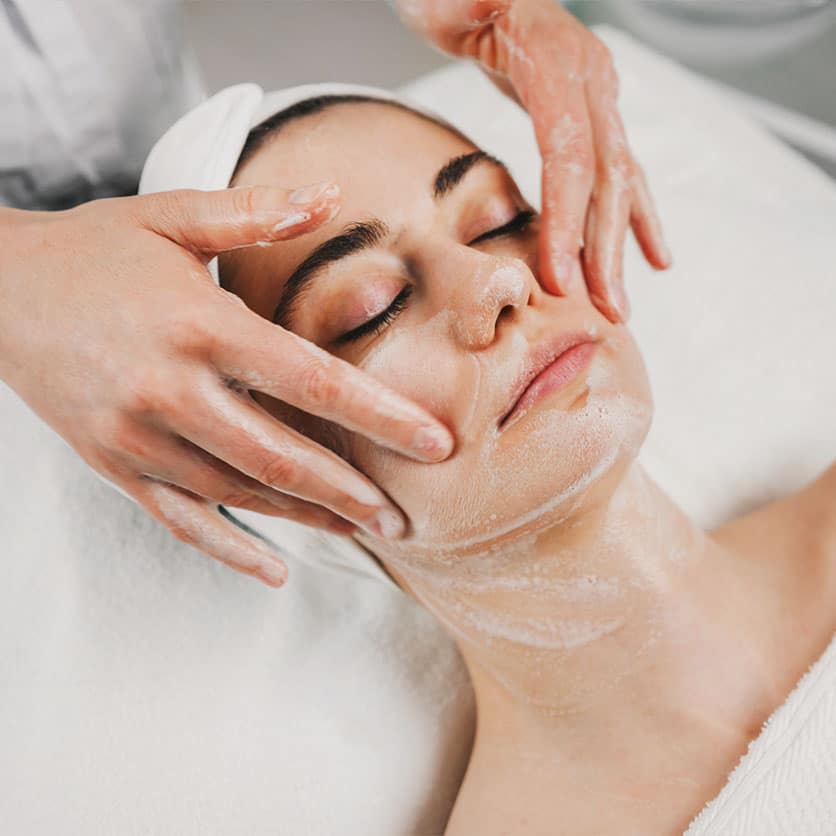 Facials FAQs
The frequency of facials varies based on your skin type and concerns. We recommend monthly facials to maintain optimal skin health as a general guideline. However, our estheticians will provide personalized recommendations during your consultation.
Yes, facials can be adapted to suit various skin types, from oily to sensitive. We offer a wide range of facial options, ensuring that individuals with different skin concerns can benefit from our treatments. Our estheticians will select the most appropriate products and techniques to match your skin type and goals.
Absolutely! We have a wide selection of both Eminence Organics and Amarte skincare products available for purchase. Our experienced estheticians are delighted to assist you in choosing the ideal products that align with your skincare regimen, guaranteeing you can continue to enjoy the advantages of these cutting-edge formulations from the comfort of your own home.
Embrace The Self-Care Journey
Skincare Consultation
Our estheticians will assess your unique skincare needs, concerns, and goals. Together, we'll create a personalized facial experience tailored to rejuvenate your skin.
Indulge in Relaxation
Relax and unwind as you receive your customized facial. Our expert estheticians will pamper you with a cleanse, exfoliation, soothing facial massage, and a rejuvenating mask. This step is designed to cleanse, nourish, and revitalize your skin.
Glowing Skin
​​Experience the transformative power of our facials as we apply the finishing touches. Leave face. beauty & brow bar feeling refreshed, rejuvenated, and glowing.
Interested in a Facial Package?
Ask us on how you can save money with our maintenance plan!
Our Luxurious Facials & Skincare Treatments
$105 (50 min)
Our most popular facial! Recommended for first-time clients/first-time facials, our trained and licensed esthetician applies a relaxing cleansing treatment that exfoliates, tones, and hydrates the skin. This is followed by an anti-aging facial massage and mask treatment. Light extractions included.
Signature Illuminating Peptide Facial
$175 (50 min)
Our signature facial aims to provide healthier and younger-looking skin, using a 3-step system to target aging and hyperpigmentation in all skin types including sensitive, rosacea, and acne-prone skin. Using our Eminence Organic plant-based Peel & Peptide System, the antioxidants and anti-inflammatory properties of the ingredients leave the skin smooth and radiant, so you walk out of the treatment room glowing!
Age Corrective Specialty Facial
$150 (50 min)
Perfect for mature skin, this treatment consists of a blend of Natural Retinol Alternative and bamboo, containing strengthening properties that increase collagen and cell regeneration, which promotes elasticity and leaves the skin looking glowing and healthy. This facial pays special attention to the eye area to help smooth wrinkles and fine lines. *Includes anti-aging facial massage.
$165 (50 min)
Recommended for oily/problematic skin, this facial helps to draw out impurities and congestion from the pores with a primary focus on extractions, followed by a deep acne peel, which assists in preventing future breakouts and inflammation. This treatment is finished with high frequency.
$150 (50 min)
For parched, dehydrated skin, this facial includes exfoliation followed by humectant-rich layers of facial oils, serums, and moisturizers to revitalize the skin and infuse extreme hydration and moisture into the skin again, leaving the face soft, supple, and rejuvenated.
$195 (30 min)
Hydra dermabrasion (also known as a Hydrafacial) is a non-invasive skin treatment that uses patented technology to cleanse, extract, as well as hydrate skin. The result is younger-looking, glowing, healthier skin. The treatment has virtually no downtime and can improve skin glow, hydration, and radiance in just 30 minutes, and can be performed on almost any skin type safely.
Hydradermie Micro-Currant Specialty Facial
$150 (50 min)
Another perfect cocktail for mature skin, the Hydradermie machine is unique to Guinot. Using a muscle-stimulating treatment that tones and lifts the skin with electric currents, the skin appears younger and firmer while oxygenation promotes a radiant appearance. Regular treatments offer results such as hydration of dry skin, reduction of sebum levels in oily skin, and reduction of wrinkles and fine lines.
$225 (60 min)
​This procedure is used to treat and improve conditions like acne scarring, fine lines and wrinkles, loose skin, skin texture, pore size, brown spots, stretch marks, and pigment issues. Using medical-grade needles, skin is resurfaced and infused with hyaluronic acid to increase the production of collagen and elastin.
$245 (80 min)
Go with the flow to find your glow! This facial begins with a skin analysis and your esthetician will then develop a customized treatment. This is perfect for those who have multiple skin concerns or would like an in-depth treatment to build a specialized skin care plan.
$70 (30 min)
A light exfoliating treatment that gently scrapes the surface layer of the skin with a surgical scalpel to remove dead skin and peach fuzz. Treatment is pain-free, safe for most people, and leaves skin feeling remarkably soft and smooth. This can be added to any facial or booked as a stand-alone service.
Amarte Korean Facial with SilkTox
$245 (80 min)
This luxurious facial uses Medical, Grade-A Korean skincare by Amarte to give the skin a beautiful glow, combining Korean ritual, philosophy, and technology with Western dermatology expertise. This facial includes the Silktox mask treatment for an immediate lifting and tightening effect.
Amarte Korean SilkTox Facial
$175 (55 min)
This anti-aging facial uses Medical Grade-A Korean skincare by Amarte to give the skin a beautiful glow, combining Korean ritual, philosophy and technology with Western dermatology expertise. This facial includes the Silktox mask treatment for an immediate lifting and tightening effect.
$65 (30 min)
Our service for your intimate lady parts includes steam, a deep cleanse, and exfoliation. This is followed by light extractions to remove ingrown hairs. It finishes off with a calming or brightening mask treatment.
$95 (45 min)
Our premium service for your intimate lady parts includes everything that a classic vagacial offers but with the addition of high-frequency treatment and a hydrojelly mask!
Extra extraction time for very congested pores.
A complete lip exfoliation using a luxurious lip scrub to remove dead and dry skin, followed by stimulating oils for deep hydration. Treatment is completed with a petroleum-free, plumping lip balm.
An application of soothing Neroli oil with Natural Retinol Alternatives to firm the eye area and smooth crow's feet. Treatment is sealed with an ultra-hydrating cream to brighten and nourish the delicate eye area.
Helps tighten and shrink pores, leaving a germicidal layer on the skin to promote healing and cell regeneration.
Polish your skin to perfection with this natural microdermabrasion action of poppy seeds and fine walnut. Pear and apple infuse your skin with bioflavonoids and antioxidants. All signs of roughness, dryness, and congestion will be smoothed away to leave a soft and glowing complexion.​
This treatment uses micro-currents to drain and remove toxins while lifting and tightening the eye area. This is followed by a de-puffing treatment and collagen-infused eye masque.​
Stone Crop Healing Hand Scrub
Revitalize your hands with this exfoliating treatment which combines the hydrating qualities of sugar & the invigorating benefits of salt to reveal smoother, softer, and brighter skin.
Wildflower Scalp Treatment & Massage
Designed to hydrate the scalp and root, while increasing circulation & relaxation. Warm oil is massaged throughout the scalp, working to relax tension and decrease stress.
Anti-Aging Facial Massage
Facial manipulation includes a series of movements to promote lymphatic drainage, circulation, and muscle stimulation. As a result, the face appears more lifted and toned.
This active exfoliating peel treatment revitalizes the skin and restores a youthful glow. This treatment better assists with extractions and allows the following treatments to penetrate into the skin more effectively.
Neck, Chest, and Décolleté Peel
A unique treatment for an often neglected area that provides a targeted approach to the visible signs of aging. This includes deep exfoliation, liquid peel, and targeted mask treatment to brighten and hydrate the area.
Good for acne, anti-aging, and combo skin, this painless, non-invasive LED light therapy uses different wavelengths of light stimulating the skin's natural repair and rejuvenation processes. Treats specific skin concerns such as fine lines, wrinkles, acne, pigmentation, and rosacea.
A luxurious anti-aging, peel-off treatment that will keep your complexion youthful and radiant. This mask helps to treat wrinkles and fine lines by stimulating collagen production, helps reduce age spots and sun damage, and it is also antibacterial and anti-inflammatory which can help clear up acne and skin infections.
Gua Sha or Cryo Globe Therapy
Gua sha stone massage stimulates blood flow and circulation, increasing the amount of oxygen and nutrients to the skin. Cryo globes have a similar effect, but also eliminate puffiness, especially around the eyes. Try this after a long day of excessive screen time!